For first-hand experience they need only consult assistant coach Chris Whitaker, who played in the record 96-19 defeat to the Crusaders in 2002. Having secured a home final with one game to play, coach Bob Dwyer benched several key players and left Phil Waugh at home so as not to risk an ankle injury. The shell-shocked Waratahs lost 51-10 to the Brumbies in a semi-final the following week.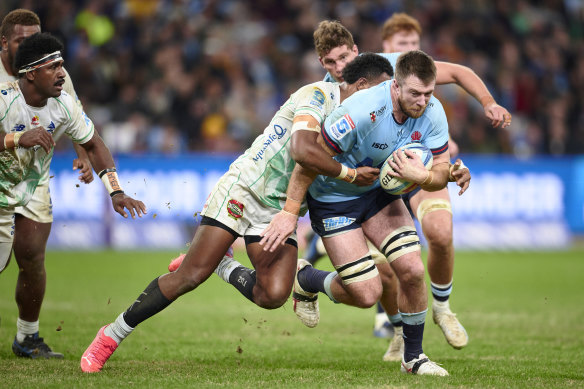 Jed Holloway takes the ball forward with defenders hanging from him.Credit: Getty
Whether Michael Hooper is given a week off will be a point of interest. Under original plans, Hooper is due one more game off under Wallabies resting policies but Coleman confirmed Eddie Jones was happy to leave the decision to NSW.
"Eddie has been really good on that. We talk about it," Coleman said. "We'll catch up on Monday and do what we need to do. He's not going to try and kill our momentum going into the play-offs. There's no hard and fast rule."
As per NSW's loss in Auckland and the Brumbies leaving eight stars home from their Perth trip at the weekend, teams resting players has created debate about the damage to the integrity of Super Rugby, a competition that requires as many star players as possible.
Loading
"We won't rest guys that don't need it," Coleman said. "It was probably over the balance of the two games. We'll just make sure we manage them well to go forward. I definitely see people's point on integrity of the competition. There's not much I can do about it."
Another player who may be considered for a spell is teenage fullback Max Jorgensen, who was in exceptional form against the Drua. In his first season as a professional, the 18-year-old but had initially been earmarked for cautious workload but injuries elsewhere have seen him play big minutes in all-but one of the Tahs' games.
"It's pretty crazy, playing against some people I grew up watching and idolising, I guess," Jorgensen said of the chance to play against the Crusaders.
"It will be a good challenge for the boys next week, but I think we are up for it."
Jorgensen has shown the maturity to handle every challenge thrown at him. The teenager was named in the first Wallabies squad and said he was growing with confidence in each game, and is hoping to make the World Cup squad.
"Definitely. I want to be there. Obviously that's all up to Eddie there. Hopefully I can keep playing well and cement my spot in that squad," Jorgensen said.
Watch all the action from the Super Rugby Pacific with every match streaming ad-free, live and on demand on Stan Sport.